Thankfully case numbers are at an all-time low in the US. While it seems hardly anyone is testing anymore, wastewater remains one of our best indicators to confirm that the reported downward trend in case numbers are in fact accurate.
One thing we want everyone to be aware of with the newest rising Arcturus variant (XBB.1.16) is there has been an uptick in people reporting symptoms of pink eye. Yes, that's right, pink eye (conjunctivitis). Of course this would occur just in time for spring allergy season where many will disregard their inflamed, itchy eyes as "just allergies". But if you have this symptom, be aware, and maybe consider taking a COVID-19 PCR test.
COVID-19 Statistics
After three years of reporting data throughout the pandemic, the New York Times is ending its COVID-19 data gathering operation. This change was spurred by the declining availability of virus data from state and local health officials. Since few states report more than once a week (and some no longer report data to the public at all), the weekly data reports from the C.D.C. have become the most reliable source of information on the virus's spread. They are planning to still report information from the federal government weekly on a new set of tracking pages. But know that the links provided in previous CLL Society COVID-19 Updates are no longer being kept up-to-date by the New York Times. As a result, our visuals are going to look a little different now too.
Here is this week's map of community level of spread as of April 24th (again keep in mind this CDC data is weighted based on hospitalizations and cases, so it does not necessarily reflect the actual level of community spread).
Here is the summary graphic from the New York Times as of April 24th. We continue to see significant downward trends in all 14-day change metrics.
Here is a graphic from what we consider to be the most accurate reflection of the numbers, the Wastewater Monitoring Project, last updated on April 24th. Numbers are still higher than this time last year, but trending in a good downward direction.
Wastewater levels remain the highest right now in the Western region but are still trending lower than they have been.
Hospitalizations due to COVID-19 are also dramatically down as of April 24th. Just like what we have seen all winter, there still continues to be a disproportionately high number of hospitalizations for those over the age of 70 (purple solid line on the right) compared to all of those in younger age groups.
The weekly average number of COVID-19 deaths in the US ending the week of April 19th were 1,160. While there are still far too many people dying from COVID-19, this is the very lowest number of deaths per week that we have seen since the start of the pandemic in March 2020, which is great news.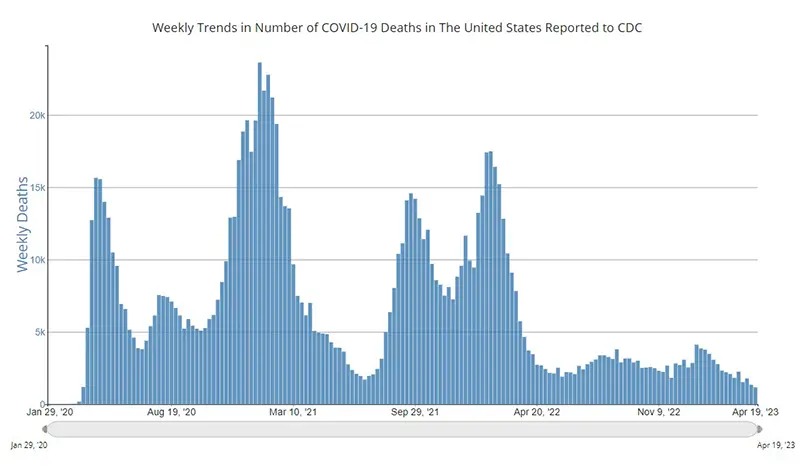 Current & Emerging Variants of Concern (VOC)
As of April 22nd, per the CDC Variant Tracker XBB.1.5 continues to dominate in the US. However, XBB.1.9.1 and XBB.1.16 appear to be gaining a little bit of steam, and are competing almost neck and neck to gain ground. We will see if they can overcome XBB.1.5 in the next month or so.
Unfortunately, we will probably never again see another variant in which we won't be able to say, "this variant is more transmissible than the last." This is because for new variants to become dominate, they have to be more transmissible than all the other variants that have come before them to make any gains. The one that rises to the top is always going to have to be more transmissible in order to dominate and out-compete all the others. 
You may have heard earlier on in the pandemic that some believed the coronavirus might become less infectious over time. However, we have learned there is no evolutionary pressure for it to become less infectious, mainly because it often has several weeks to live inside its host and learn how to mutate around that individual's immune system. And since hardly anyone isolates appropriately anymore (mainly meaning they go back in public after a few days when they are still shedding the virus maskless, but starting to feel better), and as the virus is continually making copies of itself inside of its host, that person is oftentimes infecting others with new versions/mutations of the virus. This is why scientists now believe there will never be a less infectious variant. Instead, repeated infections and boosted individuals may have enough immunity to hold certain cousins of the newer variants at bay for a while, that is until it can mutate again and outsmart our vaccines and infection-aquired immunity. This is probably what we are seeing right now where levels seem to be plateauing out despite very infectious variants still circulating.
COVID-19 in the News
The FDA and CDC signed off on additional bivalent booster guidance for those who are over the age of 65 and for those who are immunocompromised. CLL Society encourages everyone with CLL/SLL whose last bivalent booster was two months ago or more to consider obtaining an additional dose. Keep in mind the Public Health Emergency is ending on May 11th, at which point vaccines and testing will no longer be free under the provisions of the federal government. Now is the time to get those boosters and stock up on your supply of COVID-19 home antigen tests if you haven't done so already.
An article was published in Nature confirming what we have long suspected, in that there is a heightened risk of autoimmune diseases after COVID-19 infection. This includes rheumatoid arthritis, type 1 diabetes, lupus to name a few.
In the UK where they carefully track more data points than we do here in the US, it was reported that 14,000 people have died after catching COVID-19 from their healthcare setting. It is important to still keep all of your necessary in-person healthcare appointments. However, as many hospital systems within the US have already moved to remove mask requirements, we want to encourage you call ahead so you can know ahead of time (before you get to your appointment) if your healthcare providers (nurses, doctors, dentists, etc.) will be wearing masks or not. If not, please speak up and ask for them to! You have a right to receive safe care and the right to request that reasonable accommodations be made for you as an individual who is moderately to severely immunocompromised. 
Keep learning, and please stay well.
Robyn Brumble, MSN, RN
Director of Scientific Affairs & Research
CLL Society