CLL Society's Medical Advisory Board is comprised of leading CLL/SLL experts from across the country. Members generously provide their time and talent to the organization and represent an interprofessional group of well-respected leaders in their field. As a group, they advise CLL Society on a wide range of activities including our educational programming, research efforts, and medical initiatives.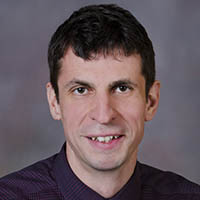 Alexey V. Danilov MD, PhD
Chair
Professor, Department of Hematology
Associate Director, Lymphoma Center
City of Hope National Medical Center
Duarte, CA
Dr. Danilov earned his medical degree and PhD at Yaroslavl State Medical Academy in Russia and completed a fellowship in hematology/oncology at Tufts Medical Center in Boston, Massachusetts. He is a physician-scientist with a background in molecular biology and oncologic drug development and expertise in cancer cell signaling. He leads an independent research program in B-cell malignancies, which bridges the understanding of B-cell biology with early clinical evaluation of novel therapeutics.
As a leader of the Lymphoma Center at the City of Hope National Medical Center, Dr. Danilov guides an effort in experimental therapeutics in lymphoid malignancies. In addition to pre-clinical focus on evaluation of novel targets in the ubiquitin-proteasome system (1) and oncogenic role of cyclin-dependent kinase-9 (2), his group performs correlative science on multiple clinical trials. He received peer-reviewed funding from the National Cancer Institute, Leukemia and Lymphoma Society, American Society of Hematology, Lymphoma Research Foundation and SWOG, and serves as Translational Medicine Chair at SWOG Lymphoma Committee.
Clinically, Dr. Danilov is a practicing medical oncologist specializing in the care of patients with CLL and lymphoma. Building on his pre-clinical discoveries, he launched multiple early-phase clinical trials with novel agents targeting Nedd8-activating enzyme, BTK, PI3K, and SYK. As a member of industry and SWOG committees, he participates in drug development on a global scale.
Matthew S. Davids, MD, MMSc
Co-Chair
Associate Director, Center for Chronic Lymphocytic Leukemia
Dana Farber Cancer Institute
Boston, MA
After obtaining an A.B. cum laude in chemistry at Harvard College, Dr. Davids completed his M.D. cum laude at Yale University School of Medicine. He served as an intern, resident, and assistant chief resident in internal medicine at New York-Presbyterian Weill Cornell Medical Center and Memorial Sloan-Kettering Cancer Center in New York City. He then completed his fellowship in hematology and oncology in Dana-Farber/Partners CancerCare, and a Masters in Medical Science (M.M.S.c.) at Harvard Medical School. He is an attending physician in the Division of Lymphoma, where he serves as the Director of Clinical Research, as well as Associate Director of the DFCI CLL Center. He is also an Associate Professor of Medicine at Harvard Medical School, and attends on the inpatient hematologic malignancies service at Brigham and Women's Hospital. Dr. Davids has an active translational research program in CLL, focusing on studying apoptosis (in particular Bcl-2 biology) in his laboratory, and leading clinical trials to evaluate novel therapeutic strategies in patients. Much of his work has focused on the clinical development of new therapeutic regimens in CLL utilizing combinations of targeted inhibitors of Bcl-2, B cell receptor pathway kinases, and other novel agents.
Brian Hill, MD, PhD
Taussig Cancer Center
Cleveland Clinic
Cleveland, OH
Dr. Hill is the Director of the Lymphoid Malignancies Program and a Staff Physician in the Cleveland Clinic Taussig Cancer Institute.  His clinical and research focus is in chronic lymphocytic leukemia (CLL) and lymphoma. He is the principal investigator of multiple on-going clinical trials of new cancer treatments including novel cellular therapies and has published extensive research articles pertaining to these topics.  In addition to being an active researcher, he is a proponent of empowering patients and participates regularly in patient education forums including CLL Society events.
Nicole Lamanna, MD
Department of Medicine, Columbia University Medical College
Division of Hematology Oncology
Associate Professor of Clinical Medicine
New York, NY
Dr. Nicole Lamanna serves as an Associate Professor of Medicine and Director of the Chronic Lymphocytic Leukemia (CLL) Program on the Leukemia Service for the Hematologic Malignancies Section in the Hematology/Oncology Division at Columbia University Medical Center (CUMC). Dr. Lamanna specializes in the treatment of adult patients with acute and chronic leukemias. Her area of clinical expertise is in treatment of patients with lymphoid leukemias, specifically chronic lymphocytic leukemia (CLL). Her clinical research focus has been the development of novel combination therapies that include chemo-immunotherapy, immune-modulatory drugs, kinase inhibitors, bcl-2 inhibitors, and monoclonal antibodies. Her research aims have also encompassed the development of safer and more effective therapies for older patients with CLL and the investigation of novel agents for all patients with this disease. She has lectured at international and national meetings and has published in various scientific journals, including Blood, Journal of Clinical Oncology, and the New England Journal of Medicine.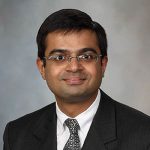 Sameer Parikh, MBBS, MD
Assistant Professor, Hematology
Mayo Clinic
Rochester, MN
Dr. Parikh is a Consultant and an Assistant Professor of Medicine and Oncology in the Division of Hematology at Mayo Clinic, Rochester, Minnesota. After completing his medical school training from Seth G.S. Medical School in Mumbai, India, Dr. Parikh pursued his internal medicine residency training from St. Francis Hospital, Evanston, IL, and a fellowship in Hematology/Oncology at Mayo Clinic, Rochester, Minnesota. He also spent one year as a research trainee in the Department of Leukemia at the University of Texas MD Anderson Cancer Center. Subsequently, he was invited to serve as faculty in the Division of Hematology at Mayo Clinic, Rochester; and is a very active and enthusiastic researcher within the Chronic Lymphocytic Leukemia (CLL) Disease Oriented Group.
He is a recipient of numerous awards, including the Shannon Timmins Leukemia Fellowship Award, Mayo Clinic Department of Medicine Career Development Award, Lymphoma SPORE Career Development Award, Mayo Clinic Paul Calabresi Program in Translational Research Scholar Award (K12 CA090628), and the Mayo Clinic K2R Career Development Award.
His research is focused in evaluating the role of prognostic factors and novel agents in chronic lymphocytic leukemia. He is a Principal Investigator of several investigator-initiated and industry-sponsored clinical trials. He is also the Principal Investigator of the Mayo Clinic CLL database, which includes all patients with a diagnosis of CLL seen in the Division of Hematology at Mayo Clinic in Rochester, MN since 1995 who permit their records be used for research purposes and which is linked to the Mayo Clinic CLL tissue bank. Finally, he is also a co-investigator in many R01 studies that are funded by the National Institutes of Health.
He is a passionate educator and has presented his work both at national and international forums. He has authored over 100 peer-reviewed publications in prestigious journals including New England Journal of Medicine, Journal of Clinical Oncology, Blood, Leukemia, Haematologica, American Journal of Hematology and British Journal of Hematology. He is an active member of the American Society of Hematology (ASH), American Society of Clinical Oncology (ASCO), and the Eastern Co-operative Oncology (ECOG-ACRIN).
Javier Pinilla-Ibarz, MD, PhD
Lymphoma Section Head and Director of Immunotherapy
Malignant Hematology Department
H. Lee Moffitt Cancer Center & Research Institute
Tampa, FL
Dr. Pinilla-Ibarz is physician scientist who works as Senior Member, Head of the Lymphoma Section and Director of Immunotherapy in the Department of Malignant Hematology at the H. Lee Moffitt Cancer Center in Tampa, Florida. Dr. Pinilla-Ibarz is also a Professor in the Department of Oncologic Sciences, College of Medicine, University of South Florida, Tampa, Florida.
Dr. Pinilla-Ibarz has been leading the chronic leukemia program at Moffitt since 2006; and its principal interests in the clinic are patients with myeloid and lymphoid chronic leukemia. In this regard, Dr. Pinilla-Ibarz has participated in multiple clinical trials involving several kinase inhibitors many of them now FDA approved. He continues to be involved in the clinical development of new kinases inhibitors through participation in multiple clinical trials.
As Director of Immunotherapy for Malignant Hematology, he has been involved in developing new immunotherapeutic approaches in malignant hematology with special emphasis of restoring the impaired immune response of patients with chronic leukemias. He has participated in several clinical trials of peptide and cellular vaccines in different hematological disorders. He has been involved in the development of a Wilms tumor 1 vaccine for leukemias and other solid tumor now in phase III trial across the world. His laboratory is interested in epigenetic immunoregulation in lymphoid malignancies such as B and T cell lymphomas through the use of epigenetic modifiers such as histone deacetylase inhibitors and hypomethylating agents. Other research focuses are on the interaction of kinase inhibitors with the immune system and how to use these drugs to improve current immune therapeutics approaches. Dr. Pinilla-Ibarz frequently presents his findings at annual meetings of the American Hematology Association and the American Society of Clinical Oncology and he lectures in other national/international meetings. His work has been published in journals including New England Journal of Medicine, Blood, Nature Immunology, Journal of Leukocyte Biology and Leukemia. He has also authored multiple book chapters.
Dr. Pinilla-Ibarz received both his MD and PhD from the University of Zaragoza, School of Medicine, Spain. He completed his residency in medicine and a fellowship in Hematology at La Paz University Hospital in Madrid, Spain; and after he moved to the US, he also completed a residency in Internal Medicine at Cornell Medical Center and a fellowship in Hematology/Oncology at the Memorial Sloan Kettering Cancer Center in New York City.
Alan Skarbnik, MD
Director of the Lymphoproliferative Disorders Program and Experimental Therapeutics, Malignant Hematology
Novant Health
Charlotte, NC
Dr. Skarbnik is a native of Brazil, where he completed his medical education at the University of Sao Paulo, where he also completed a residency in Internal Medicine. Subsequently, he moved to the United States, where he completed a residency in Internal Medicine at St. Luke's-Roosevelt Hospital Center/Columbia University College of Physicians and Surgeons in New York City, followed by a fellowship in Hematology and Medical Oncology at Fox Chase Cancer Center in Philadelphia and a fellowship in Hematopoietic Stem Cell Transplantation at the City of Hope National Medical Center in Duarte, California. Dr. Skarbnik then worked as the Director of the CLL Program at the John Theurer Cancer Center at Hackensack University Medical Center in New Jersey. Currently, Dr. Skarbnik is the Director of the Lymphoma and CLL Program as well as the Director of the Immune Effector Cell and Experimental Therapeutics Program at Novant Health Cancer Institute in North Carolina. Dr. Skarbnik's clinical practice and research endeavors focus on the care of patients with chronic lymphocytic leukemia and lymphomas.
During his free time, Dr. Skarbnik spends time with his wife and three kids, plays in a rock band (keyboards, guitar and saxophone) and enjoys grilling, cooking, and brewing beer.
Deborah Stephens, DO
Director of the CLL Program and Associate Professor of Hematology and Hematologic Malignancies 
The University of Utah Health/The Huntsman Cancer Institute
Salt Lake City, UT
Dr. Stephens is the Director of the Chronic Lymphocytic Leukemia/Lymphoma Program at the Huntsman Cancer Institute at the University of Utah. She completed her internal medicine residency at Cleveland Clinic and fellowship training at The Ohio State University. Dr. Stephens leads a subspecialty clinic with a focus on patients with CLL and lymphoma. Her primary research interests include developing new targeted therapies for patients with CLL and lymphoma, studying resistance to current therapies, and developing supportive therapies for complications of CLL. She is the Physician Leader of the Hematology Clinical Trials Division at Huntsman Cancer Institute and is the principal investigator on multiple clinical trials including the international principal investigator for the SWOG S1925 EVOLVE CLL Study (NCT04269902). She is an expert panelist for the National Comprehensive Cancer Network (NCCN) CLL Guidelines Panel, which establishes and publishes the most widely referenced guidelines for the evaluation and treatment of patients with CLL. Dr. Stephens is also a member of the medical board for CLL Society, which is the largest patient-led CLL group in the country. The sum of Dr. Stephens's experiences demonstrates her deep commitment to improve the care of patients with CLL and lymphoma.
Laura J. Zitella, MS, RN, ACNP-BC, AOCN
Hematology, Blood & Marrow Transplant, and Cellular Therapies Program
UCSF Helen Diller Family Comprehensive Cancer Center
Associate Clinical Professor, School of Nursing
University of California San Francisco
San Francisco, CA
Laura is a Nurse Practitioner who cares for patients with blood or bone marrow cancers, such as lymphoma, multiple myeloma, and leukemia. With more than 25 years of experience caring for people with CLL, she has expertise in chemotherapy, immunotherapy, targeted therapy, medications utilized in clinical trials, blood and marrow transplants, symptom management, and palliative care.
Laura earned her Master's degree in Nursing at the University of Illinois Chicago College of Nursing, where she also completed training to become a certified Acute Care Nurse Practitioner. She specialized in oncology and immunology.
Laura has delivered hundreds of educational presentations to national and international audiences. She has authored numerous peer-reviewed publications, medical textbook chapters, and has created many web-based medical education modules. She also co-edited the textbook Hematologic Malignancies in Adults.
Laura has received a number of awards, including the Award for Excellence from the Oncology Nursing Society, the DAISY Award for Extraordinary Nurses, and Stanford Health Care's inaugural Advanced Practice Provider of the Year Award.