CLL Society Staff
The CLL Society team is a small group of dedicated individuals, including healthcare professionals, experienced business executives, educators, nonprofit professionals, patients, caregivers, and more. They are driven by a commitment to make certain that CLL Society is creative, responsive, inclusive, and equitable in meeting the unmet needs of those whose lives have been touched by CLL / SLL.
Learn about them here.
Brian Koffman, MDCM (retired), DCFP, FCFP, DABFP, MSEd
Co-Founder
Executive Vice President
Chief Medical Officer
Board Member at Large 
Dr. Koffman, a well-known doctor, educator, and clinical professor turned patient has dedicated himself to teaching and helping the CLL community since his diagnosis in 2005. Dr. Koffman believes that his dual status as a physician and patient provides a unique experience and understanding which allows him to provide clear explanations of complex issues and to advocate for his fellow patients and inform his fellow healthcare providers. This is especially important in view of the rapidly changing therapeutic landscape. Besides his medical degree, Dr. Koffman has a Master of Science in Medical Education. Dr. Koffman is also a family doctor, board certified in Canada and USA, a retired clinical professor in family medicine at the Keck School of Medicine, USC, and the former medical director of the nonprofit medical educational organization, Primary Care Network. Dr. Koffman co-founded and serves as the Chief Medical Officer and EVP of CLL Society Inc. 
Executive Director
Carly brings over 10 years of senior management experience in nonprofit medical and scientific societies to CLL Society. She has held leadership positions in educational design and technology, accreditation and compliance, and scientific meeting planning for the American Academy of Family Physicians and the American Society for Clinical Pharmacology and Therapeutics. Carly has experience leading complex projects, managing large budgets, and creating efficiencies through process improvements, all while serving the respective organization's goals related to both mission and margin. She holds a Master of Education in Adult Education, and a Master of Business Administration.  
Carly's early personal life was strongly influenced by experiences with family members who have fought battles against leukemia. Her personal experiences with the disease, and how it affects individuals and families, fosters a strong desire to serve CLL Society and contribute to its mission to address the unmet needs of the CLL and related blood cancer communities.  
Carly is a Kansas native currently residing in San Diego. She is a wife, a mom, and a dog lover who enjoys yoga, hiking, and reading.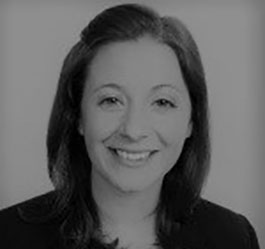 Program Director
Liza brings over 10 years of program management experience in nonprofit organizations to CLL Society. She has directed nonprofit programming at the American Society for Clinical Pharmacology and Therapeutics, Independent Sector, and the Women Presidents' Educational Organization. She has experience managing large, complex programs with strict deadlines, as well as conference and meeting planning. Liza has a Master's in Public Administration with a concentration in Nonprofit Management from George Mason University, and a BA in Sociology from Mary Washington University.
Liza has devoted her career to mission-driven organizations and brings this dedication to CLL Society in support of patients and caregivers affected by CLL. She is a proud mother of two and spends her free time finding local museums, playgrounds, and children's activities in the DC metro area.
Director of Scientific Affairs & Research
Robyn has held a variety of roles as a registered nurse for more than twenty years in both the inpatient and outpatient settings. She has a heart for ensuring all patients receive the very best care possible and incorporates that same passion for excellent patient care into her role with the CLL Society. Before joining our staff, Robyn held positions in nursing leadership, patient advocacy, patient education, nursing academics, developed continuing medical education (for both physicians and nurses), served as executive director at another non-profit organization, and is a published author and editor for medical textbooks. Additionally, she has spent time as a legal nurse consultant and expert legal nurse witness. Robyn enjoys national speaking engagements at medical conferences, particularly when she is presenting on topics about quality improvement and patient safety initiatives in the healthcare setting. She holds both a Master of Science in Nursing and a Bachelor of Science in Nursing.
Robyn resides in the Midwest with her husband of more than thirty years and three Maltipoos. She is a proud mother of three and a grandmother to one (who has stolen her heart). Hobbies include cooking gourmet meals with her husband, trying out new restaurants, leading medical mission trips abroad, playing violin at weddings and other events, watching her husband perform his symphony orchestra position, and vacationing on a beach with her family in any tropical location.
Information Technology Director
Brad received his Master of Science in Computer Information Systems from Missouri State University. He has over 36 years' experience in I.T. with 25 of those years spent in the continuing medical education (CME) industry. His experience includes the development of data collection software technology and custom database-driven applications specializing in online event management and learning management systems. In addition, he has been the lead application developer on a number of interactive projects that include dozens of commercial websites, CDROMs, corporate videos, DVDs, shared decision-making tools, and other award-winning interactive projects. 
Brad also serves as a Live Conference Technical Director responsible for overseeing content creation, and audio-visual execution of live and online CME programs. Live content capture, video streaming, and audience response systems are all a part of Brad's toolbox – ensuring a successful educational experience before, during, and after a live meeting event. 
In his free time, Brad enjoys outdoor activities including hiking, backpacking, spelunking, kayaking, and beekeeping. On any given evening he enjoys grilling on his Big Green Egg. 
Program Coordinator
After working 18 years for a frozen beverage manufacturer, and then 17 years for a community mental health provider, Nancy chose to semi-retire and became a full-time homemaker, grandmother, and childcare provider for her two adult children.  She had lost her husband in August 2010 after a three (plus) year battle with acute myeloid leukemia, followed by the loss of her mother 17 months later to pancreatic cancer, and decided to take a break from the workforce and focus more on her family. Several years later, Nancy began pursuing employment opportunities which brought her to the attention of Brian and Patty Koffman. Nancy joined CLL Society in August 2016. 
Strategic Partnerships Manager
Fernando received his undergraduate degree in International Relations and Spanish from Goucher College in Maryland. Fernando has had the opportunity to work in nonprofits throughout the United States, including Maryland, Arkansas, and California. These experiences have allowed him to work for unserved and underserved communities, specifically focused on public education equity and destigmatizing mental health. ­­Through his experience, Fernando has actively collaborated community stakeholders, legislators, and non-profit organizations to create long-lasting partnerships .
Fernando resides in San Diego, CA. He is ­an avid reader, musician, soccer fanatic, and he loves to support local businesses and try new food spots.
Executive Assistant
Albie received her undergraduate degree in Speech, Language, and Audiology from the State College at Fredonia. She also holds two Masters of Education in the areas of Educational Administration and an Advanced Degree in Educational Administration from the State Colleges of Brockport and Buffalo.
She has spent 31 years in the field of education, first as a Speech and Language Pathologist and then in Educational Administration, holding positions as Building Principal, Director of Curriculum, and then Assistant Superintendent of Schools. She has also held the position as the Interim Superintendent of Schools. She retired from the education field in 2015.
Albie was diagnosed with chronic lymphocytic leukemia (CLL) in 2008 and has yet to receive treatment. She is also a facilitator for CLL Society's Rochester, NY Support Group, which she has managed for almost four years.
Albie lives in Medina, NY, which is a small town seated along the Erie Canal and Lake Ontario. She spends her free time gardening, reading, enjoying friends, and spending time with her husband and three rescue dogs.
Development & Communications Manager
Nicole is a recent Master of Public Affairs (MPA) graduate from the O'Neill School of Public and Environmental Affairs at Indiana University. With a concentration in Nonprofit Management, she has always had a strong drive to make a career out of working for a cause and serving the greater good. During her time in the graduate program at IU, Nicole worked as a Graduate Assistant to Women's Philanthropy at IU where she gained experience in development, donor relations, grant management, and event planning. Nicole was introduced to CLL Society through her graduate coursework and grew to love the organization's mission.
Located in Spokane, WA, Nicole is a hiking, rock climbing, and coffee enthusiast. Her evenings are often spent trying out a new recipe or cooking a family classic.
Vickie Miller, MEd, BSN, RN
Patient Education Manager
Throughout her more than 20 years as a registered nurse, Vickie has cared for patients of all ages from preterm infants to those at the end of life. One of her favorite responsibilities has been educating patients to help empower them to make informed decisions about their own health, wellness, and disease management. She believes that when people understand why something is important, they are more likely do what is needed, whether that be lifestyle changes to improve health, or understanding treatment options and addressing challenges. She has been developing patient, nursing, and medical education throughout her career, and holds a Master of Education in Online Education.
Vickie is a US Navy and Desert Storm veteran. Having lived all over the US and in two other countries, she currently resides in the Kansas City area with her husband, 3 cats, 1 chiweenie, and a snake named Hermes. She is the mother of a blended family of 11 children, and currently has 16 grandchildren from age 8 months to 18 years. In her free time, Vickie enjoys being outdoors, hiking when she can, and is very involved in all aspects of theater. She currently serves on the Board of Directors for a local community theater organization.
Development Director
Ron has dedicated his career to helping important nonprofit organizations raise funds to carry out their missions, whether in healthcare, social services or education. Through his leadership roles in development, and as a consultant, he has helped organizations raise over $100 million in the past 30 years. As a member of the online faculty, Ron has also taught fundraising and nonprofit leadership courses to graduate students at BayPath University. Ron began his career as a policy researcher and advisor at the CT State Senate, but has since found that helping people through nonprofit work is not only more challenging, but also far more gratifying.
Following a 2022 CLL diagnosis, Ron recognized the opportunity to put his experience to work for the CLL Society, raising money to help improve the quality of life for many more CLL / SLL patients and hopefully help find a cure.
Ron is a New York/New England native who recently transplanted to Florida with his wife and dog Juno. When not working, you can find Ron on the tennis or pickleball court, on a fishing boat, or somewhere close to the beach.
Director of Government Affairs & Public Policy
Saira has represented corporate, nonprofit, and government interests in the legislative and regulatory health policy arena for more than 20 years in Washington, D.C. She has had repeated success identifying and creating advocacy opportunities and translating them into strategic legislative and regulatory results. Focusing in areas such as oncology, rare and extremely rare therapies, vaccines, and specialty products in sickle cell, pain, addiction, cell, gene therapy, and more.
Saira has worked extensively with government agencies including CMS and the FDA and elected officials on Capitol Hill. She also brings her experience from working with Capitol Hill with both the House and Senate, including her previous work on the Ways and Means Committee and her role as senior legislative counsel for Senator Mike DeWine (R-OH) and Chief Counsel to one of the Senate Healthcare Subcommittees. Saira handled all healthcare issues under the Senate HELP Committee's jurisdiction, including extensive negotiations with the FDA and industry on the Balanced Budget Act of 1997 and the first reauthorization of the Prescription Drug User Fee Act.
Saira's leadership at the Association of Community Cancer Centers allowed her to build strong relationships with the oncology community and gain insights into the evolution of oncology care. She continues to work closely with many oncology organizations, identifying emerging trends that have led to repeated success in tackling coverage, coding, and payment of marketed and pipeline Medicare Part B and D products. Saira is also a nationally sought-after speaker on oncologic advocacy and policy issues.