MRD and Disease Monitoring
Knowing how well you are responding to any therapy is going to help guide whether it should be continued, changed, augmented, or stopped. There are lab tests and sometimes imaging and physical examinations that can help. One of the newest tools is testing for MRD, or measurable (AKA minimal) residual disease, which can detect very low levels of CLL in the blood or in the bone marrow, as explained in this basic article by Dr. Brian Koffman. This can help inform optimal management. 
The second half of this article deals with how we traditionally measure response to any CLL / SLL therapy, not only in a clinical trial, but in any and all settings. How we assess responses using complete response (CR), partial response (PR), stable and progressive disease, and/or by using MRD is evolving quickly and will vary with the individual's clinical circumstance.
CLL Society Webinar Archive – MRD: What Should it Mean to Me?
MRD (minimal or measurable residual disease) is important to understand, not just in clinical trials, but increasingly in guiding real world CLL decisions you may need to make with your doctors. Join Dr. Anthony Mato as he discusses testing and research on MRD and its growing role in CLL management along with Dr. Brian Koffman. Watch Now.
At the American Society of Hematology (ASH) 2021, our own Dr. Brian Koffman interviewed Dr. Jake Soumerai, a clinical investigator at Massachusetts General Hospital and an Assistant Professor at Harvard Medical School. They discussed MRD as a biomarker to direct treatment duration in a phase 2 clinical trial of
We discuss the latest results from the GLOW study, a phase 3 clinical trial which compared fixed-duration ibrutinib + venetoclax with chemoimmunotherapy (chlorambucil + obinutuzumab) as a first-line treatment.
Various combinations of venetoclax plus other agents such as venetoclax plus rituximab (RVe), venetoclax and obinutuzumab (GVe), or venetoclax plus rituximab plus obinutuzumab (GIVe) provide fixed duration treatment options with high rates of success. 
At the annual meeting of the American Society of Hematology (ASH) 2021, Dr. Mathew Davids from the Dana-Farber Cancer Institute in Boston interviews Dr. Bill Wierda from the MD Anderson Cancer Center in Houston. They discuss the benefits of combined finite therapy to achieve U-MRD with a
Join CLL Society and PeerView Institute to watch the ASH 2021 Symposium about the newest data on BTK inhibitors and CAR-T cell constructs in CLL Treatment.
The team at Dana-Farber Cancer Institute is testing whether the combination of duvelisib (Copiktra™) and venetoclax (Venclexta®) will lead to deep remissions that would allow for oral only therapy of one year duration. Learn more about this ongoing Phase I/II clinical trial.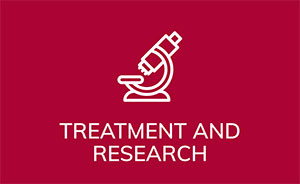 When appropriate, the CLL Society will be posting updates and background information on the present Coronavirus pandemic focusing on reliable primary sources of information and avoiding most of the news that is not directly from reliable medical experts or government and world health agencies.

ABBREVIATIONS AND GLOSSARY