CLL Expert Healthcare Providers
Although CLL/SLL is the most common adult blood cancer, it is still considered a rare (orphan) disease. Treatments have changed radically in the last few years, and it is difficult for even dedicated blood cancer experts to stay on top of the latest advances. Having a CLL expert as part of your healthcare team, in addition to your local provider, has been shown to have a survival advantage.
We've compiled a list of healthcare providers in each state that can be found below. CLL Society incorporates a vetting process when adding individual healthcare providers to our list of providers. Some important criteria CLL considers when determining who is an expert includes asking if the provider regularly refers patients to clinical trials, do they perform the appropriate biomarker testing before deciding upon any treatments, do they primarily prescribe therapies that are considered the most current standard of care, and is the majority the patients seen in the office primarily consist of CLL/SLL patients.
(Please Note: The list below is not exhaustive of all CLL/SLL experts within the country).
Find a local CLL expert if possible. Otherwise, consider traveling to a consult and establish a relationship or consider using our
Soon after my retirement and relocation to Northern California, I had a "new patient" visit to establish medical providers in my new community. The new patient visit led to an obstructive sleep apnea diagnosis which resulted in the recommendation to have my tonsils removed. As part of the pre-operative
Patient, Know Thyself Mark Hoffman is a long-time CLL patient advocate and facilitator of the CLL Society Patient & Caregiver Support Group in San Diego, CA. In this article from Cancer Health, Mark echoes the importance of the Test Before Treat™ campaign by sharing his story. When Mark was
(Expert Access & Test Before Treat™) This is just a brief note to tell you about the important impact you had on my treatment for CLL. Last November, through the Expert Access program sponsored by the CLL Society, you were kind enough to review my medical records and chat
When I was first diagnosed in April 2018, my WBC was at 55k, my local Hematologist performed the FISH test and found out I had 11Q with loss of ATM, they told me that only made a difference in the type of treatment I would need and I probably
Diagnosed Aug 2018 as a 54-year-old female, with SLL via node biopsy. CT showed extensive lymphadenopathy, very bulky disease, particularly in mesentery. Bloodwork all in normal range. Had BMB in spring 2019 for purposes of FISH. Had been experiencing increasing fatigue and discomfort in gut. Pathologist decided not to
I question if my doctor should have genetic tested me before treating me with Bendamustine in December 2013 and if this was the cause of my developing theTP53 mutation after my initial diagnosis of 13q in 2008. After the Bendamustine treatments, I started on Ibrutinib in January 2014. Gary
Thank you to our sponsors for helping us provide the most updated CLL information.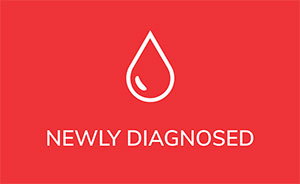 When appropriate, the CLL Society will be posting updates and background information on the present Coronavirus pandemic focusing on reliable primary sources of information and avoiding most of the news that is not directly from reliable medical experts or government and world health agencies.